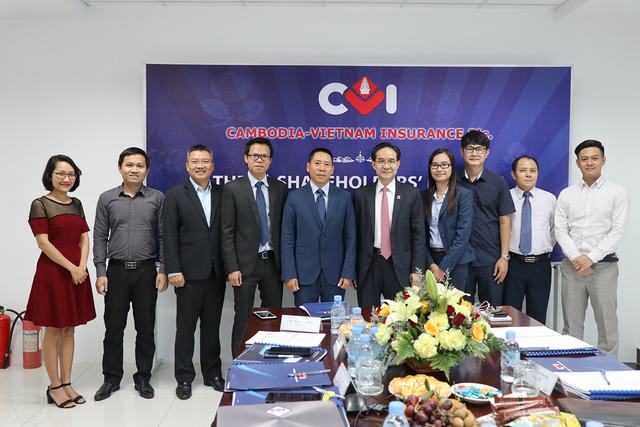 At the meeting, CVI reported and asked the General Assembly of Shareholders for seven major issues, including:
– Business results in 2017 and objectives and focus 2018;
– Financial statement, distribution plan for after-tax profit, dividend payment in 2017 and dividend plan for 2018;
– Results of the Board of Directors in 2017 and targets and directions for 2018;
– Results of remuneration and allowances for members of the Board of Directors and Supervisory Board in 2017 and the plan for payment in 2018;
– Results of activities of the Supervisory Board in 2017 and targets and directions for 2018;
– Results of evaluation of financial report in 2017.
– Revenue growth: Despite the hard market condition in 2017 due to the election of local government in June 2017 and increasing competition conditions due to four newly set up companies, CVI achieved strong growth in revenue and profit. Revenue of 2017 reached $7,837,320, an increase of 28.53% over 2016, equals to 111.96% compared to the target assigned by CVI's Board of Directors, revenue growth rate of CVI was 4 times higher than average revenue growth rate of Cambodia insurance market, the average growth rate of the entire Cambodia insurance market in 2017 was only 7.1% according to the Insurance Association of Cambodia.
– Profit after tax: In 2017, CVI's profit after tax is USD 724,002, an increase of 22.35% compared with 2016 figures, or 101.3% of the profit target set by the CVI's Board of Directors in 2017. Investment income also show a strong growth, reached $ 628,863, increased by 14% over the same period last year.
– Leading insurer of Aviation: Continuing to maintain the leading position in the aviation insurance market, successfully renew existing aviation customers and develop the aviation portfolio. CVI successfully approached and secured for newly established airlines: JC Airline, Lanmei Airline, KC Airline, Cambodia Airways, Prince Airline. CVI established the good relationship and support from the international reinsurance market and with its clients as well, and especially CVI Board of Management has a strong relationship with The Cambodian Civil Aviation Department and based on their support for approaching airlines to persuade them to buy insurance from CVI. Currently, total number of aviation clients of CVI is 10 airlines.