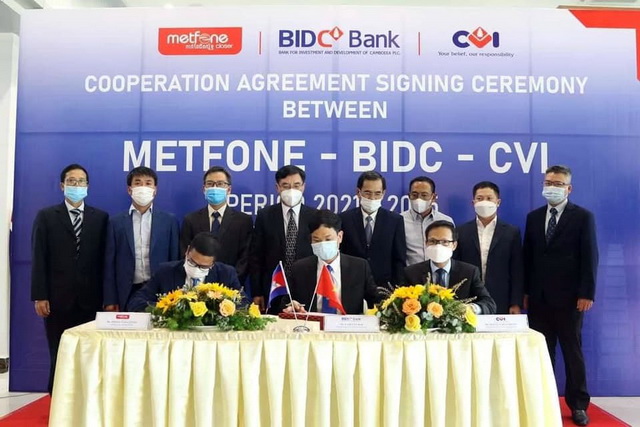 On August 27, 2021, at Bank for investment and Development of Cambodia (BIDC)'s headquarters, CVI, BIDC and metfone held a ceremony to sign a Cooperation agreement to strengthen cooperation relations and maximize the advantages of each party. The signing ceremony was honorably attended by representatives of the the Vietnamese Embassy in Cambodia, the Board of Management and staffs of all 03 participating Parties.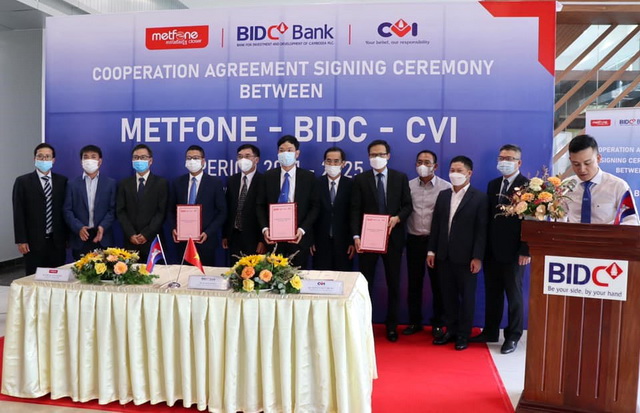 At the signing ceremony, CVI, BIDC and Metfone jointly signed a comprehensive cooperation agreement, committed to prioritizing the use of each party's services, increasing cross-selling of products, and promoting to introduce customers to use the services of Parties.
As a Bank for Investment and Development of Vietnam (BIDV) member in Cambodia, BIDC has been operating since September 2009. After 12 years, BIDC has penetrated and established a strong position in the Cambodian financial and banking market with efficient business operations, high growth, modern banking products and services, and a network of 9 branches in various locations. Over the past 12 years, BIDC has strived to deploy operations and provide capital and banking services to many customers with total assets of nearly USD 800 million and credit outstanding of almost USD 600 million. At the same time, BIDC always focuses on social security work, is the locomotive promoting Vietnamese investment in Cambodia, connecting the two countries, enhancing the image and reputation of Vietnamese enterprises in Cambodia. Accordingly, BIDC was highly appreciated and awarded the highest honors by the Government and authorities in 2010, 2012, 2018, 2019.
As a Vietnam Military Industry and Telecommunications Group (Viettel) subsidiary, Viettel – Cambodia Telecommunications Company Limited (Metfone) was established in Cambodia in January 2009. Up to now, Metfone has been becoming the most valuable telecommunications brand, the leading mobile operator in Cambodia, with an extensive network. Metfone has always put a lot of effort and investment into building and expanding network infrastructure. Currently, Metfone has the most extensive network in Cambodia with more than 11,000 online BTS stations covering all old and new technologies: 2G, 3G, 4G and 4.5G; more than 23,000km of fiber optic cable has been deployed in 25/25 provinces in Cambodia; 100% of districts have modern transmission technology DWDM and MPLS/IP fully, connecting internationally with all other countries by both undersea and terrestrial fiber optic cables. Metfone's sales and technical team are present in all provinces and cities. Thus, the sales channel extends to all districts and communes to provide high-quality services, quick response to requests from clients, and bring to customers the best good and services.